Vi Message Center Number: Are you looking for the best network for your mobile? Are you looking for a mobile network that provides better service for you? Are you looking for an uninterrupted signal? Are you in a need of better service from your mobile network operators?
Then we request you to go to the Vi network. It is providing better service to the customers and it is giving a better signal. You can get a signal even in rural areas. While using the different mobile networks you may be fed up with the weak signal in the rural areas. This problem got solved after the extension of their speed range. Vi is able to provide you a better network and better service.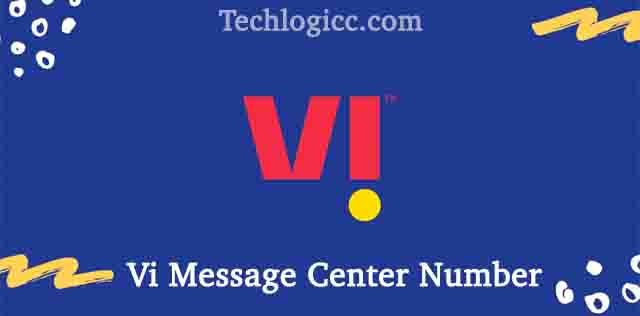 The Vi service operators are able to give better output to the customers. They are feeling so happy to give better customer service. With the usage of this network for a wide range of people, there will be many doubts gets raised by the customers. To help each and everyone there are few numbers been added to the special services?
After listening to this it may be urgent to know the numbers of the Vi service providers. Among those numbers, the Vi SMS center number is the most needed one. As people spend a lot of messages to their friends and relatives. They may face problems like messages not being delivered or being unable to receive messages. There will be common queries like knowing the message balance and a lot more like this.
There are serious instances where people may not get OTP messages which are gaining a lot of importance nowadays. Along with this everything is being linked to mobile numbers nowadays. Aadhar and bank accounts are the major ones that getting connected with mobile numbers. So it is very important to know the messages being generated.
Vi Message Center Number for All States 2021
| | |
| --- | --- |
| Vi SMS Center Numbers | Phone Number |
| Kolkata |  +919830099990 |
| North East |  +919774099990 |
| Karnataka |  +919886005444 |
| Jammu & Kashmir |  +919796009905 |
| Rajasthan |  +919839099999 |
| Haryana |  +919839099999 |
| Himachal Pradesh |  +919736009911 |
| Assam |  +919706099990 |
| Delhi |  +919811009998 |
| Mumbai |  +919820205446 |
| Gujarat |  +919825001002 |
| Orissa |  +919776099990 |
| Telangana |  +919885005444 |
| Chennai |  +919843000040 |
| Andhra Pradesh |  +919885005444 |
| Bihar |  +919706099990 |
| Goa | +919823000040 |
| Jharkhand |  +919709099990 |
| Kerala |  +919846000040 |
| Punjab |  +919888009998 |
| Chhattisgarh |  +919713099990 |
| Pradesh |  +919719009998 |
| Madhya Pradesh |  +919713099990 |
| ROTN | +919884005444 |
| Uttar Pradesh east | +919839099999 |
| West Bengal | +919732099990 |
How to Contact the Vi Service Provider Regarding Message Issues?
One can dial the Vi message center number and can contact them directly by explaining your issue.
They will ask you the basic details and then will go through your problem in detail.
They will ask you in which language you are comfortable speaking and will proceed in that language.
They will resolve your issue by being on call.
The response you get after dialing the Vi SMS service center number will be recorded completely.
In case if you get any unexpected responses from the service operators or call center people you can report to the higher authority.
Once your problem gets resolved they will ask you to give them feedback.
Your feedback will give them value for their work.
Along with the common Vi SMS center number, there are other specific numbers like Vi message center number Delhi and Vi message center number Mumbai. You can directly contact these regional numbers to get better outputs.
For every region, there are specific numbers to operate. You can search for those numbers and can go to the number which will be in your place. The regional service providers will be able to resolve your issue in a lesser time due to the better accessibility they have.
How important is it to know about the Vi SMS Centre Number?
It is very much important because messages are playing a major role nowadays.
People are paying online payments via Google pay or Phonepe with the help of mobile numbers. They receive the message to the mobile number from the corresponding banks. If you don't get the message then you will get disturbed the whole day.
There are many instances when your account balance shows less amount and you don't know when you had spent such an amount. The message plays a lot of roles.
The Ola and Uber rides call your mobile numbers and there will be OTP being sent to your mobile number to start the ride. On many occasions app, itself shows these required things but sometimes it will be necessary to check through the message. Mainly while doing online shopping the OTP been generated plays a major role.
By knowing the importance of the messages which you get to your mobile numbers you should be in an alert mode to know the Vi SMS service center number in a before way thoroughly. It is very important to know these details beforehand. So that you don't get tensed if something happens to you in a stance.
More Related Posts